4G multi-mode encoder

Product code: TC1750
TC1750 is a high throughput turbo/convolutional code encoder covering LTE, HSPA+, WiMAX 16e/m. It performs either convolutional turbo code (CTC) encoding or convolutional code (CC) encoding and rate matching for these three PHY layer specifications.
The rate matching is flexible and can easily be used to execute HARQ mechanism. Thanks to its high throughput architeture TC1750 is able to reach multi-Gbits/s throughput ranges with a single core instance:
up to 4 Gbits/s payload rate in LTE mode (with 500 MHz clock)
up to 1 Gbits/s payload rate in HSPA mode (with 500 MHz clock)
TC1750 can be used for both uplink and downlink. It can be implemented in Base Stations (from femtocells to large stations) or in the terminal SoC. ASIC and FPGA versions are available.
Functional coverage:
The core is not a simple turbo encoder accelerator, but offers the support of rate matching functions (see below) that off-loads the DSP from this tasks without requiring an additional hardware module.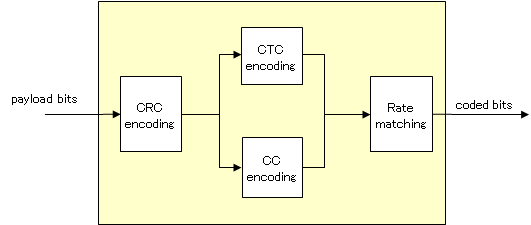 3GPP LTE mode

CRC encoding
CTC block sizes range: 40 to 6144 bits
CC block sizes: 8 to 1024 bits
rate matching: bit collection, sub-block interleaving, bit selection

3GPP-HSPA+ mode

CTC block sizes range: 40 to 5114 bits
CC block sizes range: 8 to 504 bits
rate-matching: bit separation, puncturing / repetition, bit collection

IEEE802.16d/e/m WiMAX mode

CRC encoding
CTC block sizes: 48 to 4800 bits
CC block sizes: 48 to 288 bits
rate matching: sub-block interleaving, bit grouping, bit selection
Features:
Block-by-block change of physical layer mode (LTE/HSPA+/WiMAX), block length, rate matching parameters
Latency reduction by bank swapping
No external memory required
High throughput architecture
Silicon proven
ASIC Core: Verilog or VHDL RTL source code
FPGA Core available on all popular Altera, Lattice and Xilinx devices
Related Cores:
HSPA encoder Core covering CTC encoding + rate-matching (TC7100enc)

LTE encoder Core covering CC and CTC encoding + sub-block interleaver (TC7000enc_LTE)

WiMAX encoder Core covering CC and CTC encoding + sub-block interleaver (TC1000enc_WiMAX)